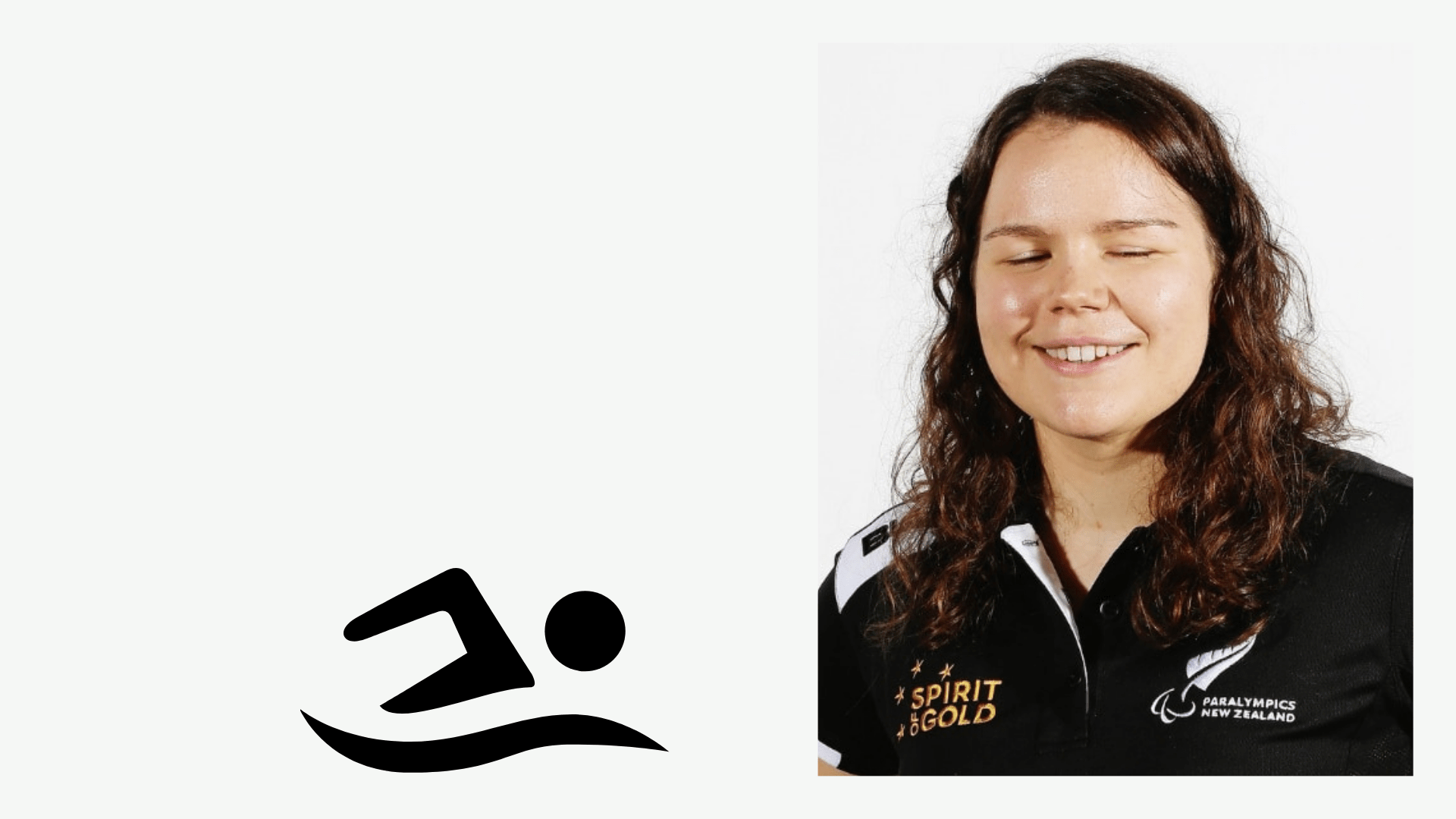 After racing in 2012 and 2016, Mary Fisher's been watching the Paralympics from afar and cheering the New Zealand team on. She's now a Board Member of Paralympics New Zealand, and works for Blind Low Vision NZ. The Able team captioned and audio-described the highlights, and we spoke to her about her experiences as a Paralympic athlete and the importance of the Paralympic Games.
Kia ora, Mary. Tell us about your journey to competing in the Paralympics in 2012 and 2016?
I grew up in Te Awakairangi/the Hutt Valley and now live in Wellington city. I was born with vision impairment – a random genetic thing that meant I had low vision. As a teenager, my sight deteriorated and I raced in the totally blind classification. My family aren't super sporty but were very supportive in letting me try any activities I was keen on. When I was young I didn't realise how different my vision was from other people as I'd known no different. At primary school I played soccer – the contrast of the ball on the grass was good, but as time went on it got faster, more strategic and my vision got worse. Not a great combo. If the uniforms were similar colours I'd sometimes pass the wrong team the ball. In water, I always felt a sense of calm – be it in a pool, the river, or the sea (I admit to being a bit of a wimp in the cold sometimes!). I love the serenity of being held by the water, the global predictability of racing pools, and steadily, hour-on-hour working at improving technique, strength and speed…all to culminate in aiming to go the fastest you've ever gone.
When I was about seven, I was at school swimming sports, and thought it'd be neat to get into the more advanced group. My family took me to lessons then the local club, and it snowballed from there. I gradually increased my training hours, and started qualifying for national, then international competitions. It was ten years from when I did my first little race in Stokes Valley, to when I wore the silver fern in London 2012!
The Paralympic Games have been completely unique this year. What have the altered circumstances meant for the New Zealand team?
Aotearoa had 11 returning athletes and 18 debutants in Tokyo. I know the four swimmers and the other returnees from competing in Rio together. I've been reminiscing on the team atmosphere while knowing this time around Covid has altered nearly every aspect of how the Games runs. However, there's something about being on that world stage which only comes around once every four, (this time five) years. It's amazing our athletes made it to compete on their one opportune day. Everyone was in their own sport bubbles, and the protocols are stringent – in previous Games, we could physically meet other athletes. The hard work and achievement of qualifying, being selected and giving your absolute best remains.
What also comes with a Paralympic Games is that the wraparound reminders that disability is the norm in the Village; visible, celebrated, talked about in a matter-of-fact and educated way. At my first Games in London I was half a world from Wellington but it felt like a homecoming – disability in all forms was so integrated into daily structure. I was suddenly surrounded by 4,500 proud disabled athletes, my people! The UK had knuckled into creating real equity between Olympic and Paralympic athletes. It felt more progressive than home. I think perceptions have come a long way in New Zealand over the last ten years – but there's still so much work to be done.
I'd love to hear your views about the importance of the Paralympic Games, and of the representation of disabled people in the media and on screen. What does that mean to you? Why do you believe it's important?
In Aotearoa 24% of people live with disability – a statistic that's hardly ever represented proportionally on screen, let alone represented well. The Paralympic Games show athleticism, skill, strategy of competitors that non-disabled people rarely see. Good coverage of a Games can show a potential pathway for disabled people if they want to strive for elite sport. The event itself gives a platform to athletes, who together influence and can unify the world. Often disabled stories are narrow narratives of pity, or triumph, rather than normalising humans and our experiences.
How do you think that can be changed?
We need for every person to have equitable access to participate in society, be heard and be truly represented on decision-making tables. When all disabled, D/deaf, neurodivergent people and those of other minority groups and their whānau are supported to access education, healthcare, cultural and recreational activities so they can take passions as far as they want – that would make such a difference. If young Mary had known more Braille-reading presenters in the media I would've felt more worthy. If throughout my education I had timely equal access to information my technology could read it would've given me heaps more time to explore other interests, rather than going in circles just to get the same info as my sighted peers.
As well as systemic stuff, positive change looks like non-disabled people getting on board and educating themselves about disability. Which hopefully results in accessible systems and good representation being supported by all.
What has the postponement of the Paralympic Games been like for the NZ team?
I can only personally speak as a board member of Paralympics NZ… There's heaps of extra work PNZ staff have put in to make the Tokyo campaign as safe as possible. For some athletes, it meant an extra year of growth and a happy boost to training. For others, it's had the reverse effect. The difficulty of intense training and closures of sports facilities on top of the stress and pressure that comes with a 'regular' Games cycle can't be understated. It's important that we support our athletes both in tough times and victories – in all elements of their lives.
What have the highlights of the 2021 Paralympic Games been for you this year?
I loved Dan Buckingham's highlights presenting – his gravitas, knowledge of the media and of sports. Seeing my old teammate Rebecca Dubber co-host coverage. Generally, epic Kiwis competing on the world stage. Danielle Aitchison picking up a silver and a bronze in the running sprints. Though she'd medalled in international racing previously I think Danielle flew a bit under the radar before the Games, and it was lovely to see her enjoying it.
Another highlight for me, of course, was watching the swimming and our swimmers race. It's been a hard road and I feel for them. Seeing Tupou Neiufi, who I roomed with in Rio, win S8 100m backstroke was icing on the cake. I met her when she was about ten – so seeing her flourish, personally and athletically was moving – a testament to Tupou and her support system. I'm just stoked for our athletes and the top quality support team who enabled every single one to give their all.