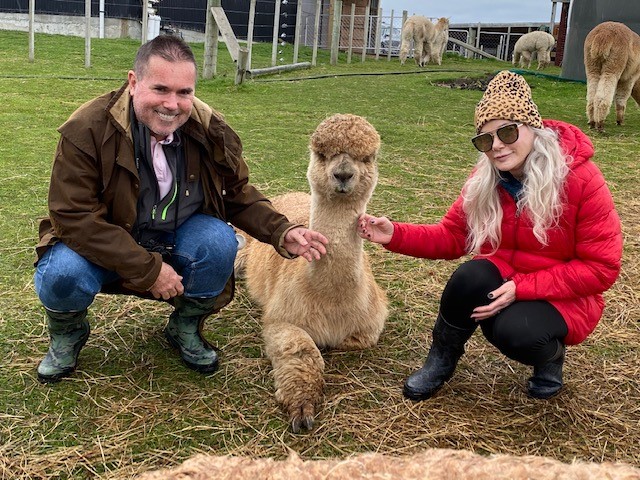 Kia ora Shawn, tell us a little about yourself?
I was born in the United States and spent most of my time there living in Los Angeles.  I have been very fortunate to travel extensively and live in other countries due to my husband's career.  We have finally settled in Christchurch (our forever home) as I believe New Zealand is the best country in the world.
For enjoyment I walk with my dogs and or/friends.  The garden city offers endless opportunities to get out and smell the roses.  I am a painter and since losing most of my vision have switched my emphasis to tactile art – paintings to be touched and felt rather than seen.  I listen to audiobooks constantly.
When did you discover audio description?
Many years ago we were visiting my son and his wife in the States.  We went to a movie (because so much of being blind with a sighted group involves pretending).  My son picked a new theatre that had headsets for the visually impaired with audio description.  MIND BLOWN!!  I think I "saw" more of the movie than anyone in my group.  I did not have to pretend to enjoy the experience – I LOVED it!
Why do you use audio description?
It means I can snuggle with my husband on the couch and experience the same television show as him.  He does not have to constantly explain what is happening.  He can relax and enjoy the show and so can I.
The benefit?  I feel normal.  No one has to explain what I'm missing or throw pity my way because I can't see what is on the screen.  It affords me the luxury of independence in a movie theater.
What are your most loved shows with audio description?
I have to confess that I have the viewing taste of a twelve-year-old boy.  Give me action and adventure and violence and spaceships.  These types of films tend to be dark backgrounds and are the hardest to see.  Just knowing the alien ant bit the head off the bad guy gives me joy.  I never miss a second of the action with audio description.
Any audio-described highlights?
Queer Eye!  I love hearing how Tan dressed someone and how Jonathan cut their hair.  Not to mention Bobby's amazing house renovations.
Why do you believe media accessibility is important?
Being visually impaired can be very isolating and lonely.  You feel like you miss so much in life.  Audio description levels the playing field.  I can have the same experience in a movie theatre or watching television as everyone else.  It is beyond fantastic.
What are your hopes and dreams for the future of accessible TV?
I hope that one day that all shows have audio description.  There are shows we don't watch simply because they don't have audio – it would be nice not to miss out on great shows and movies because you can't "see" them.