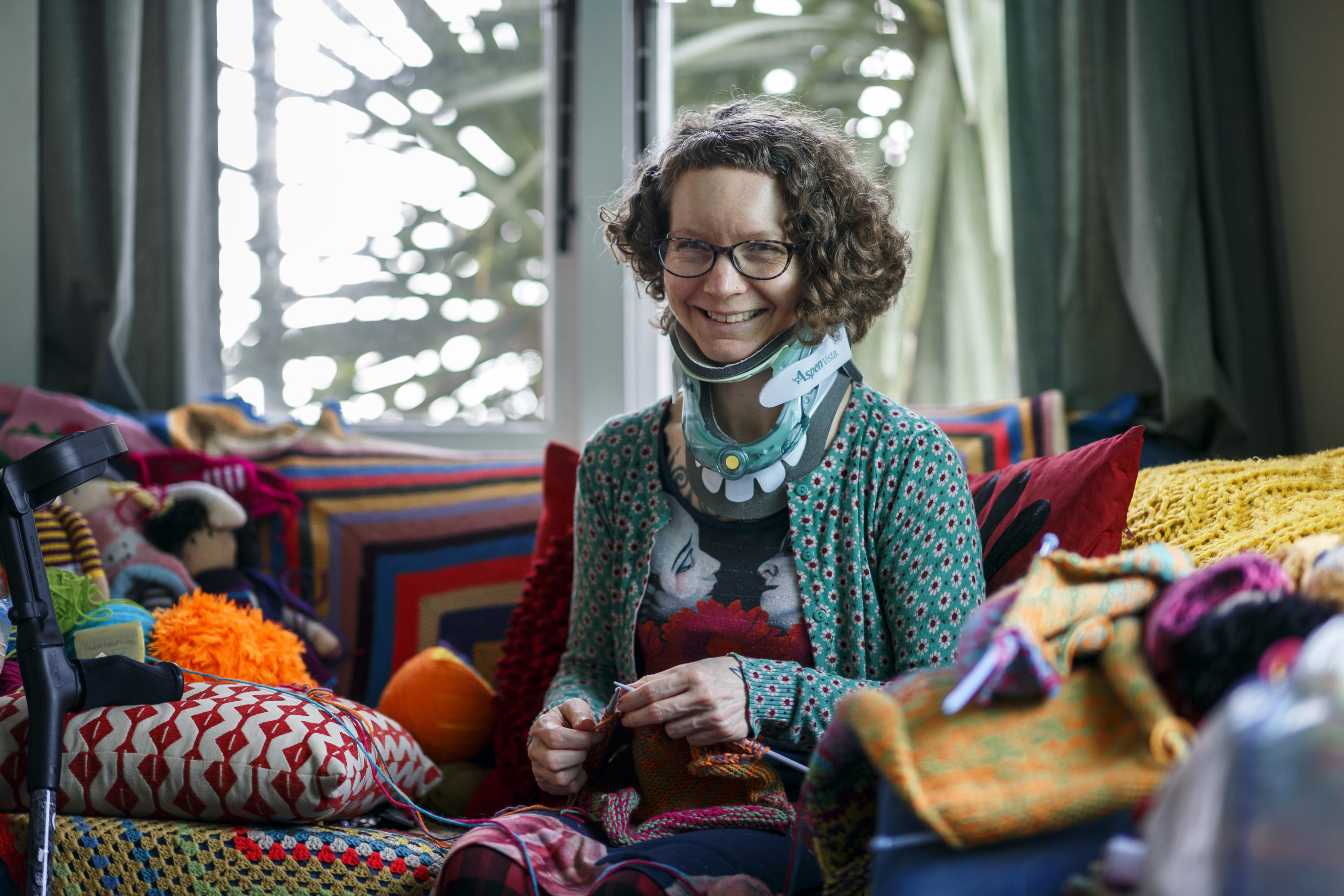 Kia ora, I'm Norelle. I was born in Palmerston North and lived in Christchurch for a large part of my childhood, before moving to Australia for a brief stint, and then back to Aotearoa. I love it here. I grew up with my Mum's creativity – she used to sew all my clothes, and I'd help her from when I was tiny. Nowadays it's my big passion: I love to work with yarn, making rugs, my own knitwear designs and dolls. Anything I need, I'll make. I love the intricacy of it, the tiny details. 
I've worked in caregiving all my working life: looking after kids with special needs, and providing emergency foster care. I've always been drawn to caregiving – my dad would tell me how, as a little girl I was constantly late home, so he followed me home one day to see what was taking me so long. One day he followed me home, and found that I was stopping off at all the elderly neighbour's houses to pull weeds out for them, and to check they weren't lonely. I was training to be a midwife when my son with diagnosed with autism. I couldn't find the care I needed for him, so I ended up switching careers and going into caregiving. 
It's been weird for me to be on the other side of the fence – needing care, rather than providing it – since I woke up one day in January and couldn't walk and talk. I went to the hospital to find out what's wrong, and ended up staying for 2.5 months! I couldn't talk beyond a whisper for six weeks – it was frustrating and exhausting. I couldn't walk, so spent my days in my room. My concentration was low: I had neurological issues, and so focussing was hard. I started to watch short clips with captions, and found that I could actually follow the story. If there was too much going on around me, the captions helped me to concentrate.
Captions include all the sounds – cars backfiring, the sound of gunshots – so, even if the volume's down, you're still immersed in the storyline. You're still getting the full experience, and you can build your own image in your mind about what's happening. Captions have certainly helped me in the times that my brain's been in a fog, and I use closed captions all the time now. They're a tool I can use to keep me connected.
I was finally diagnosed with Ehlers Danlos Syndrome (EDS) earlier this year. Now that I have the correct diagnosis, I know that my ongoing joint issues are not going away. I currently live in an inaccessible rental property, so need carers to help me navigate the things in my house I can't reach, like the laundry and shower – and the stairs in and out of the property. I'm dreaming of saving for a tiny house, with a creative space where people can craft – whatever their access needs may be. 
You can learn more, and visit Norelle's JustGiving page here.