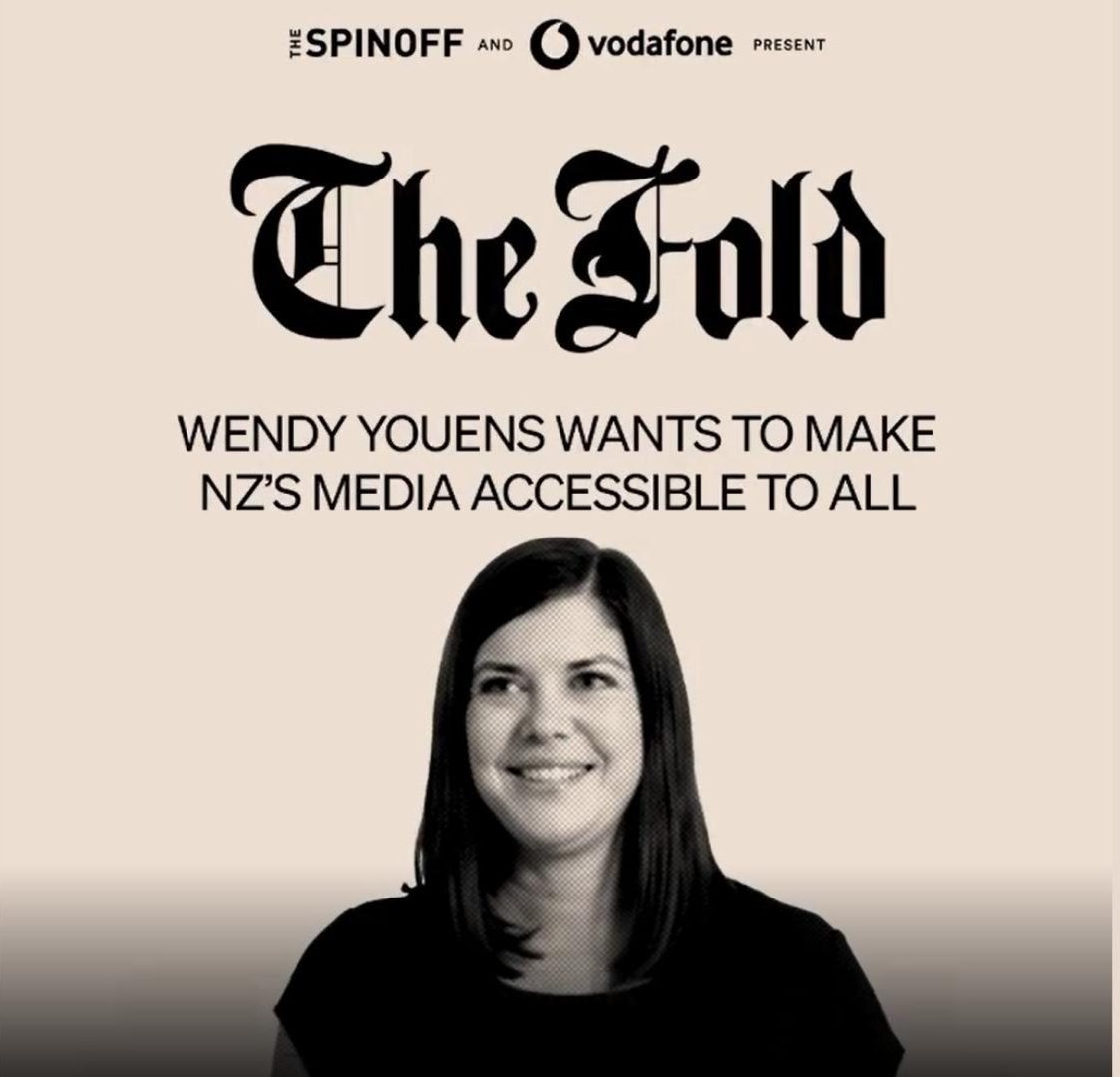 In celebration of Global Accessibility Awareness Day, Duncan Grieve interviewed Wendy Youens, our Chief Executive (CE), on The Spinoff's podcast, The Fold about the media access landscape in Aotearoa – past, present and future. The interview can be accessed on The Spinoff's platform here, and the transcript of the interview is below.
Transcript – The Fold – Wendy Youens
Duncan Greive: Nau mai, hoki mai ki a The Fold e mihi nei. Ko Duncan Greive toku ingoa.
 My guest today is Wendy Youens. She is – for another couple of weeks, at least – the Chief Executive of Able New Zealand, which is a trust that sort of grew out – or was created from – a unit within TVNZ about nine years ago to increase the accessibility of content for New Zealanders, largely through captioning and audio description. Wendy has run it throughout effectively – it was her initiative, and prior to that she was the Access Services Manager at TVNZ. This was her first job ever out of university, creating captions for TVNZ, so this is, really, her life's work in this space, and she's very passionate about it and that's manifest on this podcast. I was very excited to have Wendy on because I think that as a media we basically think that we just make stuff and then put it out and it's all good. And there are actually multiple steps along the way that mean that content doesn't necessarily reach its audience. Some of that is about distribution, but some of it's about accessibility.
Since I've been doing this podcast, I've received regular correspondence from people about accessibility, and why I didn't ask say Kevin Kenrick, the former TVNZ CEO, about the ability of TVNZ OnDemand viewers to get the same captioning experience as people who watch on linear. And Wendy speaks to that – about the challenges of it and really what the opportunity is, I think, for all of us in media to do better and serve a more total community than we do at present. So we talk about that, we talk about the way that technological change has impacted, for better and worse, really largely for better, I think, in terms of overall accessibility within all that media encompasses. I mean, say what you want about the tech platforms – and these regular listeners to this podcast know that I have a pretty complicated feelings about them – but the likes of YouTube and Facebook and even TikTok and so on, their AI speech to caption software, for example, largely does has made a tremendous amount more content accessible than was probably the case in previous eras. So we talk about that. We talk about the way that accessibility has changed over the years. And a little bit about the Basement. She's Chair of the Trust that oversees the Basement Theatre in Tamaki Makaurau, which is a place I've spent a lot of time and really, really admire for the way it helps nurture and grow and provides the opportunity to diverse comic and theatre talent over the years.
So look, there's a lot and it's really, I think, an important lesson for anyone who's in the media when they're so passionate and articulate on this topic. She's finishing up, and Able is going to be taken over by Dan Buckingham, who has also been on this podcast, and I think he'll do a terrific job there. Wendy talks at the end about what she'd like to do in future, and I think hopefully it's a role in the new public media entity, or at least consulting into it, because there's a real opportunity for that entity to really change the way that the whole of the New Zealand community can access what we make as an industry.
This is Wendy Youens on The Fold.
Greive: Tēnā koe, Wendy, and welcome to The Fold!
Wendy Youens: Kia ora, Duncan, thanks for having me.
Greive: So I wondered if you could start by explaining what Able is and how it came about, because I think it's a really it's a kind of organisation that might be invisible to a lot of people, but it does an incredibly important job. And I think, you know, it's almost like a credit to the country and to you that it exists.
Youens: Yeah, sure. So Able is an independent, not for profit organisation. We're fully funded by New Zealand on air to provide closed captioning and audio description for TV broadcasters, and we have been around for about nine years now. So the services that we provide used to be provided by a department that was sort of nested within TVNZ, and back in 2013, TVNZ went through this process of really streamlining their business and focussing on becoming this very commercial sort of machine. As part of that, they were really shaking off some of the public service things that had been around for a long time, so our department that provided the captioning and AD services from within TVNZ was part of that restructure. So TVNZ essentially made the business decision to outsource what we were doing, and we worked with New Zealand on Air to set up able as an independent, not for profit organisation. So we launched back in late 2013 and have been working from Able ever since.
Greive: Was that a weird thing, because at the time it must have felt, you know, I can imagine that you'd have some quite complicated feelings about that being sort of jettisoned out of this organisation despite the manifest importance of the work you're doing. But when you think about what the country's manifest media needs are, it actually is better for all of us if that is not contained within, you know, a big state-owned semi corporate, but is actually a sort of an independent entity and available to kind of adapt to the changing opportunities and business realities, right?
Youens: Yeah, that's right. So when I first found out that TVNZ was thinking about outsourcing our department, I remember feeling this terror of, you know, I'm going to have to make my whole team redundant. We're all going to have no jobs. And what's going to happen to the accessibility services that we provide, which we know that lots of people rely on captioning and audio description to be able to access TV? We were all really proud of the services we provided and felt that they were of utmost importance. And so it felt a bit terrifying to be cast out from the mothership, so to speak. And actually, once we landed on that idea of an independent, not for profit organisation, it felt really right. It felt like what New Zealand needed. It felt really right that we would make the most of the skilled people that we had in our team at TVNZ and that we would continue to receive that NZ On Air funding. We were really supported by New Zealand On Air Chief Executive at the time, Jane Wrightson, and also there was an independent board established to support the kind of the launch of cable. So the Media Access Charitable Trust Board, we had a couple of founding trustees, Lewis Grant and Paul France, who were really passionate and committed to making sure that that Able happened, basically. And so even though it felt really scary at the time, actually, once the idea started to take shape, it felt like this was actually what was always needed. So I'm really grateful now that it happened. At the time I remember feeling very unsure about what the future looked like; but it's been a really great move for accessibility – or media accessibility – in New Zealand because we can act independently of any broadcaster. We can work with all broadcasters and we're totally masters of our own destiny, so to speak.
Greive: Do you feel like the accessibility, the importance of it is well understood by the media more broadly? I should say that whenever I have the head of a major media company on this podcast or you know, semi-regularly over the years, I have had correspondence from people saying that it's not enough. And it does seem to be something that at times there is a sense that, it's a very large number of New Zealanders who benefit from this, but they seem at times by portions of our media to be less considered. And, you'd hope that that's changing. But certainly, the correspondence I've had has reflected that. What is your sense of how important others are, and of how the industry is engaging with you and with those needs?
Youens: Yeah, I think that the certainly the awareness of accessibility is growing. So I think that the major media organisations and TV broadcasters – TVNZ and Discovery, Sky or Prime, who we provide services for – to some extent, I think they absolutely value and know that captioning and audio description are really important services for a huge number of people in our community. But I think what's not happening at the moment is the prioritisation of disability over all the other important things that major media organisations are dealing with. So basically I think what we've found at Able is that generally, media organisations don't do anything they don't have to do, and particularly anything that's going to cost them money. So we're lucky to have New Zealand on our funding to support Able's services, but we do rely on broadcasters having the capability to actually broadcast captioning and audio description and that is currently not consistent. So, really, our goal is to improve the consistency of the availability of captioning and audio description. But at the moment you have situations where you have something that might be captioned or audio described on broadcast TV and then it's not available on an on-demand platform, for instance.
Greive: That's what I've heard a whole bunch of times that the on-demand space, which is where all the gravity's heading, is actually paradoxically – because you'd think there'd be technology that would work for those – that it's a real lottery as to whether it exists.
Youens: Absolutely. That's exactly right. And the technology is the so absolutely. It's possible to have captioning and audio description on an online platform. And you know Netflix does really well they have 100% of content on Netflix is captioned there's a pretty wide portion of the content is audio described. So it's very possible. It's just that broadcasters have to prioritise that and decide that they think it's really important. And you know what I think is what I think broadcasters currently are not really grasping is the size of that audience. So, you know, you have 38% of New Zealanders use captions on a regular basis, and 7% of New Zealanders use audio description on a regular basis. So that's a huge number of people and we actually know that it's over half of those people are not using it for the obvious reasons. So closed captioning obviously benefits the Deaf and hard of hearing community, but there's a huge range of other people that use captions as well. So people that are learning English, people that are struggling to hear for any reason, people, you know, scrolling through videos on public transport are using captions so that they don't have to listen to the content. And so captions actually have a much wider benefit, and the same for audio description. So I think broadcasters and New Zealand are still just really only at the very early stages of getting to grips with the size of that audience and that potential audience if they were to make their content accessible.
Greive: We're speaking, I think, a week or two before you finish up as Chief Executive of an organisation that you essentially started and because you were on the TVNZ side before that, this has been on some level a really defining focus of your career. I want us to talk about the technology side of it shortly because I think that's really fascinating. But I wondered if you could maybe just explain what it was that drew you to the space, and why you found it so nourishing to the extent that you've devoted so much of your working life to it to this point?
Youens: Yeah, sure. So my career path has been somewhat accidental, which is probably what everybody says. But I did an English literature degree at the University of Otago and I had no real idea what I was going to do with it. I was looking for a job in Auckland and I saw this job ad for a Caption Producer role, and it said basically 'if you love words and you love TV, this is the job for you,' and I went, 'Oh, that sounds pretty perfect!' It was an entry-level graduate role at TVNZ. So yeah, way back in 2007, I joined TVNZ as a Caption Producer and worked my way through a few different roles in the department, and eventually became the Manager of the TVNZ Access Services Department. I would say when I first started at TVNZ and first took on that role, I had no real concept of captioning and who produced captions. I guess I just imagined they were just there, but there's actually a team of very skilled and dedicated people producing those captions. Really it was a great behind the scenes look at how that service actually got there. So as soon as I joined the team, I thought, 'oh man, I've found my dream job' and just loved that we were providing a service that made a difference. But also, particularly in those first few years, you know, I spent a lot of time consuming TV, and typing out words, and loved that side of it as well. But certainly, as my career has progressed and I've moved into more management and looking at, I guess, our strategy, and the future at Able, I've loved the opportunity to connect with the communities that we serve and learn so much about the importance of captioning and audio description to people and to people's lives. You know, because the services we provide, even though in some ways it's providing access to and entertainment or news, important information, it's also just about social inclusion and enabling people that rely on those access services to be totally included in New Zealand television and New Zealand content.
Greive: Is there a particular moment or instance of that stands out in your memory as you look back across it now? I'm sure that there are heaps, and I've put you on the spot a little bit here! But, you know, I think that that sense of inclusion, it's so powerful, and that's one of the things I love about media is that it is this thing, this big unruly beast, that can, at its best, sort of tie us together or prompt conversation and so on. If you feel excluded from that, whether that's by language or accessibility, it really does on some level kind of put you as less of a citizen, or you can feel that way, as a result. What's that community side? How has that felt to you, or is there some moment of something that kind of sticks out?
Youens: Yeah, I think the Christchurch earthquakes really drove home the importance of access to information at a time of crisis. So Able – actually the services were still at TVNZ then – but providing live-captioning for the rolling news coverage was pretty, difficult. But knowing and hearing from people around the country that were relying on those captions really drove home the importance of access to information, and information that was critical for people to have. People around the country were waiting to find out if their families were okay. They were waiting for civil defence information, and providing that service felt extremely important, and really drove it home.
In terms of our audio description service, which benefits the people who are blind or have low vision, I attended this event soon after we launched the audio description service, and I remember chatting to this woman who was blind and was telling me how much she loved a David Attenborough series Africa that we had audio described. And I had previously thought that audio description didn't really add a lot to the documentary, that by its nature is descriptive. And she was just explaining to me that she had visited Africa ten years previously and that listening to the audio description and just the richness of description really brought back so many memories for her and just enriched that whole viewing experience. And it really just, I guess, reminded me that, you know, we're connecting people with stories, but also stories that connect into their lives and that's super important. Both captioning and audio description are really important services that enable people to fully participate in society. So I think always remembering that is important when you're working in this kind of space, where you can feel a bit disconnected from the communities that you're serving, because they're on the other side of a screen in their lounge at home. It's just really important to remember why we're here, and what the purpose of Able is.
Greive: Kind of welled up hearing that.
Greive: So Able launched in 2013, and I sort of think about how The Spinoff came a year later, and the reason for The Spinoff launching – not to make it about us – was the arrival of LightBox, which was I think maybe just predated Netflix, or Netflix came a few months later or a few months before, but certainly streaming went from being not really a thing to being this kind of new toy. And now, obviously, for a bunch of demographics, it's become suddenly probably the primary platform. Social has gone from being this kind of funny little toy off to the side to being something that's eating the world, for better or worse. Where is the boundary in terms of what you oversee? I read an interview on The Spinoff this morning with the censor who has a similar kind of sense of mission creep, where does my responsibility end as screens and what goes through them become becomes infinite. And how has technology changed the role over the lifespan of the organisation?
Youens: Yeah, so Able's vision is that all New Zealanders can have equal access to audiovisual media, so that's a pretty big vision.
Greive: (chuckles) That's quite big!
Youens: And I guess one caveat is that we don't always have to be the ones to provide that accessibility. So, we want to support and encourage accessibility and all its facets and Iin all types of media. In terms of Able's remit, I guess we're somewhat bound by what New Zealand On Air funds us to do so. So, we're funded by New Zealand On Air, and we have a funding contract that lays out specifically where we should provide our services and how we should prioritise those. So we provide captioning and audio description for TVNZ, captioning for Discovery and captioning for Prime, and we also provide our services for their online platforms as well. But in the nine years that Able has existed, media has just changed so much, and I think in the next couple of years, it's obviously about to change even more dramatically. But in terms of, I guess, that mission creep, I think what we're seeing is an increasing demand for accessibility in all areas and increasing demand for captioning and audio description. So Able does provide some commercial services. We work for film production companies. We work for online platforms. Any business that wants to make the audiovisual content accessible, we're keen to work with them; but we do try to stay true to that key vision, and then obviously stay true to our funding remit. from in indeed on here. So yeah, I think that to some extent is how we define what we do and how we figure out what we should do and what we shouldn't do. I think, yeah, sometimes strategy is more about what you don't do, than what you do do.
Greive: In terms of some of the platforms that I'm assuming that you largely don't do, but which are still very video or audio or video-visual, for the likes of YouTube, Facebook, TikTok and so on, some of them have elements of automated captions. And that is a technology that's progressing all the time, though, also prone to sometimes hilarious, sometimes really bleak failures of automation. What is your sort of sense of how the speech to text automation and the AI side of that space is evolving at the moment?
Youens: Yeah, the growth in technology around captioning, in particular, has been just huge. So I mean, at Able we use automation and speech to text software. We like to say that we use AI with a human touch. So I think, as you say, AI can be pretty prone to your. And you don't want to be relying on that fully for live broadcast TV. But for our non-live captioning we use automation technology. Basically, a non-live programme will be run through a voice engine and we'll get a transcript that the Captioner will then fix, and make sure that it's high quality and fix any errors. And then for truly live captioning, like a live news bulletin, or say a live sports match, we use re-speaking, voice static software. So a Captioner listens to the audio in real-time and re-speaks it into software that they have trained to recognise their voice, their intonation, and they re-speak, adding in punctuation or any kind of voice commands, like, 'new caption' or 'new line', that kind of thing. And then the voice-to-text software spits out the captions, and obviously, they are a little bit delayed, but they go out pretty quickly and the software is pretty accurate now. When we first started using it, it was quite inaccurate, there were quite a few errors. It wasn't great. But you know, we're quite a few years on from that now, and the technology just gets better every year. And it's great to have that technology because it makes us quicker and better at what we do. But I think, you know, the proliferation of automation technology on large platforms like live captioning on YouTube – and like you say on TikTok and Instagram – you can put on automatic subtitles. That's great for accessibility. It's great for people that rely on those services. It's not perfect, so I think anyone that's producing content should absolutely involve a human in that process to check it, but it can be totally adequate for some types of content. So, it's just great for people to have access in whatever way they can get it.
Greive: One thing which we've been told as a platform and, you know, The Spinoff, like most places, is imperfect and groping towards being better, is that within our area, for example, having descriptions of imagery can be really helpful from an accessibility perspective. And I must confess that we've certainly not historically, I'm not sure that we do yet, fulfil what we could there, though aspire to be better. What is your sense of how beyond television, we generally think of it as the other parts of the media, is? What can we do to improve the accessibility of our products which are sort of next to broadcast television but not part of it?
Youens: Yeah. So I think the first and most important thing is to prioritise accessibility from the very start. So when you're building a new platform – say a new video player or a new website – to actually design it with accessibility in mind. It's much more difficult to bolt on accessibility features later, and can be more expensive and can be a bit clunky. But if you prioritise accessibility in the design phase and make sure you get the right experts in the room, then you can have those features at a reasonably low cost. Doing it later can be a bit tricky, but certainly, that's not just not to stop anyone from doing it. It's still really important to look at what can be done. So I think the main the main thing is really having a goal and working towards that. So deciding that as an organisation or as a media producer that you're going to prioritise accessibility and you're going to do it by doing it by achieving these three key objectives and, you know, starting somewhere. Some accessibility is better than no accessibility and I'm very aware that sometimes the barrier is cost. The costs can be can become quite high. If you commit to full and total accessibility, the costs could be almost endless. But I think starting somewhere is really important. Looking at what you can do yourself as well, rather than always needing to work with an external company – there's certainly ways you can have people within your own team improve accessibility. For instance, like you said, image descriptions are a great way to do that.
Greive: What about accessibility and languages other than English? You have, for example, obviously, we have a whole channel that's dedicated to the revival of te reo Māori as a language. Do you have involvement with that, and how does accessibility, once it gets really complicated when you're trying to scale it to the number of different languages and cultures that we have in Aotearoa?
Youens: Yeah, that idea of universal accessibility, I mean it's very broad, isn't it? And certainly, te reo Māori subtitling is a focus for us. So what we do at Able, because the focus of our services is to provide closed captioning for the Deaf and hard of hearing and other people that might benefit from them, but of course in New Zealand content you have a lot of te reo Māori in that content. So you might have an episode of Shortland Street in which you might have someone speaking in te reo for a few sentences. So for us as an organisation in Aotearoa, it's super important to us that we get that right. So what we do is focus on ensuring that we transcribe that correctly. We don't translate, so we don't provide any translation services in house at Able. But we do work with translators from time to time you know outside of Able to provide te reo translation. And I think you know at the moment there's some subtitling on Māori TV but that's not for everything and that is not specifically for people that are Deaf and hard of hearing this, that's for people that are relying on it other than on having that language translation. So yeah, I think it's an area that's only going to grow, really. There's actually a shortage of translators in New Zealand, so that's going to be an issue going forward. And you know, I think looking at that, that kind of academic pipeline now would be really important. And, you know, the government perhaps putting some money there to to support that because that is going to be a skill set that's going to be really in high demand, as te reo continues to be revitalised.
Greive: I mean, and that speaks to a kind of a broader point, I suppose, about the level of resourcing that exists. On some level, you talk about strategy being what you don't do, but also that's also finances on some level. Do you feel like the level of funding that comes through to New Zealand On Air and therefore the sort of scope of work that that implies is as fit for modern purpose? Or do you think that on some level an expansion of scope and therefore of budget is inevitable or certainly very, you know, desirable?
Youens: We would certainly never say no to increased funding!
Greive: True!
Youens: So Able actually received quite a significant funding boost back in 2020. So there was a public media fund of about $6 million that was announced in the government's May budget that was for improving public media, and some of that funding went to Able. So we had our funding increased from 2.9 million per year to 4.9 million per year, so almost doubled and that was our first significant funding increase since Able had launched. So really, until then, we had been always focused on trying to do more with the same amount of money, and we were always trying to grow our services by becoming more efficient and by increasing services where we could, but we just didn't have the budget to support that. So with that funding increase back in 2020, we have set on an expansion strategy basically. So the last couple of years we've been growing Able's services pretty rapidly. We've expanded our team quite significantly. We've now got double the number of staff members we had when we launched, and our services have increased just exponentially since then, and that's been really great for captioning and audio description. The main barrier that we still have to increasing services to the level that people that rely on captioning and audio description want and demand is broadcast capability. So the funding is for Able to produce the services. It's not for broadcasters to implement the broadcast technology. So we know, for instance, that the blind community really want audio description on TVNZ OnDemand, but we already provide the audio description to TVNZ for broadcast TV. We'd love them to make the platform accessible so that that audio description can get that air time on OnDemand as well, and the blind and low vision community would really benefit from that. So I think really what needs to change or what could change in the future would probably be less around funding, and more around legislation, or requirements, or expectations on broadcasters. If they're going to receive this publicly funded service that actually benefits their business, then they need to meet some certain obligations on some level.
Greive: On some level, that's a choice. TVNZ has had some very profitable years – after years of descending profits, the last couple of years have been pretty good to it. Do you have a sense that it's in the roadmap for TVNZ OnDemand?
Youens: Yeah, I do. So, certainly, we're always talking with broadcasters about the improvements that we want to see, and that our viewers want to see. And I would say that all of the broadcasters that we work with are quite committed to improving accessibility in the future. It's just that sometimes it's too far away for the community that relies on it. It's not that reassuring to go back to the community and say, 'well, it might be a couple of years before you see that service available.' That doesn't give people that sense of reassurance or of imminent change. So I think accessibility improvements are definitely on the roadmap for all of the broadcasters. It's just how far away are they?
Greive: So we're running out of time a bit. But before we go, I'd really like to talk to you. You've got another role, you've got quite a few other roles, but you're also Chair of the Basement Theatre Trust. And Basement is, you know, for listeners who might not be from Auckland or be familiar, it's a small venue, it might have, what, like a 120 kind of capacity, but it's a place which has theatre and comedy and probably a whole lot more besides, but it has an amazing culture around it. I think one of the most extraordinary things it does is the way that it develops talent, and provides a safe environment for particularly young and diverse talent to sort of figure out what they are. I think you only have to look at someone like Rose Matafeo, who has come through the Basement – it's where I first saw her, or one of the first places I saw her. And you sort of, you know, or even if you think about Eli Matthewson on Dancing With The Stars – you know, travesty with that elimination on Monday – but also, you know, how impactful that was. You really get a sense of how a tiny institution like that, which is a private trust – it's received some funding, I'm sure – but it really feels like it outperforms whatever its expectations or budget could be. Tell me how you came to be involved with Basement and what you think it provides both as an institution and the lessons that could be drawn from any number of different institutions about it.
Youens: Yes. So I joined the Basement Theatre board a few years ago now, it's maybe three or four years ago as a trustee. And I came to that role because I was keen to get some governance experience and, you know, contribute to a board. And there was a position available at Basement. And I was a huge fan of Basement, a very keen attendee of Basement shows, and they just happened to be looking for a similar skillset to what I offered. And so I joined the board really not knowing what I was getting into, but I absolutely love working with the team there. It's such a diverse group of people and I think Basement's vision and purpose is just so cool. It's such a cool little organisation to be part of and I'm really proud of the work that the Basement team does. So yeah, Basement is quite a unique little theatre really, it's sort of this grungy, you know, basement venue that provides a voice and a platform to artists that might not get that platform elsewhere. And I think part of the beauty of Basement is that it really focuses in on reflecting the community that it's in. So it's really focused on reflecting the diversity of the Tāmaki Makaurau art scene. It's such a cool place to go and be challenged by different art. I've seen some pretty weird and unique shows at Basement, and the team behind Basement are just so passionate and dedicated to what they do. It's been a difficult couple of years for arts venues, but I actually think the way Basement has responded to COVID and the challenges of operating a venue in a pandemic, which is almost impossible, is something that other arts venues can learn from – and actually just businesses in general. What Basement has done is taken a step back, and rather than just being reactive to government levels changing or the traffic light system and COVID protocols changing, Basement has taken a step back and gone, what are we here for and how can we support artists during this time? And so we've done things like financially supported artists during the pandemic when these shows have been cancelled and haven't been able to go ahead. It's been a really difficult time for independent artists. And Cat Ruka, who is our executive director at Basement, has done some great advocacy work with the government around how artists need support, and what kind of support would be best for artists during COVID. So I think that Basement has taken COVID really as an opportunity to just reflect on what's our purpose and try to continue to live that purpose through a pretty difficult time in the arts world.
Greive: Finally, you know, you're finishing up and it must be quite an emotional thing to sort of wrestle with. But in terms of where you might go beyond this, do you have a sense of what that is? I hope I hope that's okay to reveal (chuckles) that you're really quite pregnant right now! So, obviously, that's going to be a thing! So yeah, what's next for you?
Youens: (chuckles) Yeah, you're never meant to assume someone's pregnant, are you? Unless you see the baby!
Greive: (chuckles) I've explicitly told!
Youens: Yeah. So I've just got a couple of weeks left in the hotseat at Able, and then I'm expecting my second baby to arrive pretty soon. So I'm super excited to be handing the reins of Able over to the amazing Dan Buckingham who has been on The Fold before.
Greive: Oh, incredible!
Youens: And Dan's just such an amazing advocate for accessibility, and just is the perfect person to take on the role at Able.
Greive: Oh, one hundred percent.
Youens: So really excited about that. In terms of what's next for me, I'm planning to take a bit of time at home with the new baby. So I think I'll hit my hands full! But after that, I'm really keen to get really to do a bit of flexible work, around consulting and advisory and really keen to stay in the accessibility space. I'm really interested in what's happening, I guess, at the government level around the new public media organisation. I think there's real room for a commitment to universal accessibility there. So not just accessibility in the realm of captioning and audio description, but like we were talking about before, other languages, really reflecting the community that we're in. So reflecting New Zealand through making sure that content is accessible to everybody, in whatever way they want or need to consume that content. So really interested in getting into that space a little bit more generally. So yeah, sort of quite open to what's next, so if anyone's listening with some opportunity, hit me up next year!
Greive: Absolutely. And I think that point to make about the opportunity, on some level, the whole underpinning of the new public media entity is that the current entities are not funded nor able to really serve the totality of what the population of this country needs from a public media perspective. And it is it's as you say, like if you design this stuff from the ground up, it's cheaper and easier than if you try and smash it in the back. So hopefully that is being considered by those doing that very hard system design work from now. Hey, thank you so much for coming on this podcast, Wendy, I so appreciate it. It's been really fun.
Youens: Thanks so much for having me.